The temperature is rising in Austin, Texas but that hasn't slowed us down. This summer we've been connecting and collaborating with others to support and create new opportunities for Austinites to innovate.
So far this year we've connected with over
But our community is about more than our numbers. As we grow our platform we hope to lift up the stories of the people and ideas that are innovating in health and encouragining inclusive economic growth in Austin.
Read what we've been up to this past June and what's ahead through the end of July.
New Board Members
Did you hear the news? We recently added two new folks to our Board of Trustees. Kerry Hall, a board member with Opportunity Austin and president of the Austin Region - Texas Capital Bank and Dewitt Peart, president and CEO of the Downtown Austin Alliance, will be joining leadership of Austin's emerging innovation district. We're thrilled to have them onboard with our shared goal of creating a healthier, more inclusive, and prosperous community in Austin.
Bio-International
Early last month, June 4th-7th, we attended the Annual BIO International Convention held in Boston with the Texas Healthcare and Bioscience Institute (THBI) and the Texas Economic Development Corporation coordinating over thirty Texas partners. The event had over 18,000 people come through over four days and broke a world record for the largest business partnering event. A number of large and mid-sized companies expressed a lot of interest in the growing healthcare innovation hub here in Austin, and we're excited to follow up and show off everything that's happening here.
We hope to represent Austin again next year and show that #AustinInnovates and can build products, partnerships, and services for Austin and beyond.
Partnering to Support Texas Startups Win Federal Funding
On June 20, Capital City Innovation engaged a statewide consortium to submit a proposal to the U.S. Small Business Administration's Federal and State Technology (FAST) Partnership Program. The SBA has funded this program each year since 2010 to support state organizations with programs that help their startup companies to better prepare and compete for the federal government's small business innovation research and small business technology transfer programs.
Did you know that in 2013, more than $2.3 billion was awarded by the federal government to small businesses for commercial research and development?
11 federal agencies including the National Institutes of Health, the National Science Foundation, the Department of Defense, the Department of Energy, NASA, the Department of Commerce, participate in these programs.
The SBIR and STTR programs are important equity-sparing sources of financing for small businesses developing high-risk, high-reward products.
Currently, California startups receive five times, and Massachusetts startups receive three times, as much SBIR/STTR funding as Texas startups!
Our proposal, if it wins SBA funding, will provide SBIR/STTR application assistance to startup companies that are partnering with Texas academic and health organizations, and those that are developing innovations that will impact health or social community safety nets. Our partners in this proposal include:
Austin Community College's Bioscience Incubator

The Austin Technology Incubator and IC2

Baylor, Scott, and White

Dell Medical School
Seton/Ascension Health

Temple Bioscience and Health District

Texas State University/STAR Park/Greater San Marcos Partnership

The University of Texas System.
Thanks in part to the strong collaborative approach shown by our consortium of partners, our proposal received the endorsement of the Governor's office as the only authorized applicant for this grant from the state of Texas!
This open, consortium collaborative approach is key to what makes a successful innovation network and district. CCI's goal is to lower barriers for these types of partnerships.
Also, we received letters of support from the following:
Central Health

Greater Austin Chamber of Commerce

Husch Blackwell

The Mayor of San Marcos

Texas Health and Bioscience Institute

Texas Tech

The University of Texas at El Paso.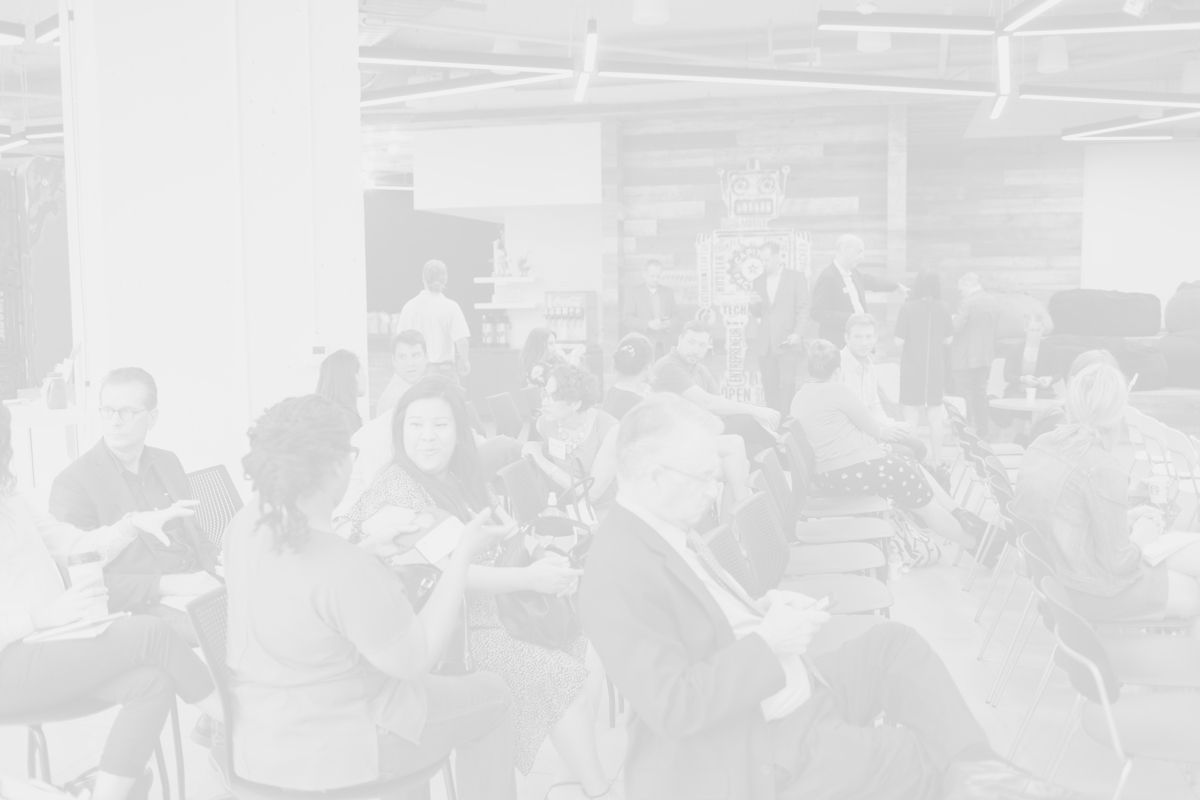 AUSTIN SBIR/STTR ASSISTANCE PILOT

Are you a startup company with an idea for a product or service that could impact the health or social community safety net?
While we wait for our proposal to the FAST program to be evaluated, we are running a pilot to provide assistance to startup companies that are interested in applying for an SBIR or STTR grant from the National Institutes of Health, or the National Science Foundation.
Making an Impact on Workforce Development
On June 25th Impact Hub had its showcase for their Workforce Development Accelerator where nine companies pitched their businesses to the crowd, showing their work to potential investors and collaborators. With its inaugural cohort, the three-month accelerator focused on three fast-growing Austin industries: healthcare, information technology, and advanced manufacturing. The inspiration for this was the Austin Metro Area Master Community Workforce Plan's goal of creating 10,000 middle-skill jobs for economically disadvantaged communities by 2021.
For the program, partners, including Capital City Innovation, worked with members of the cohort by providing mentorship and support as they developed their companies. One of the participating cohort members we connected with was Dr. Jereka Thomas-Hockaday. Jereka is the founder of Central Texas Allied Health Institute. The Institute is an organization committed to helping close the employment gap for communities of color in today's health care economy. It will offer applied associate and bachelor's degree programs, as well as certificates in allied health professions. It has focused specifically on serving people from Austin's eastern crescent and plans to host its first classes in Fall of 2019. Hockaday said, "The Impact Hub Accelerator gave my venture unparalleled exposure and support to reach influence makers and investors. Because of our inclusion in the accelerator, the launch of Central Texas Allied Health Initiative has become stronger and moved up its timeline significantly."
We are proud to have sponsored and supported the accelerator for 2018 and will follow along with the cohort's development. Impact Hub Austin will run another workforce accelerator in spring 2018 in addition to an affordability accelerator in the fall of 2019.
San Marcos – Our Innovation Neighbors?
On June 19, I was honored to be invited, along with representatives from Texas State University and the Greater San Marcos Partnership, to attend a meeting of San Marcos Council. In an initiative being spearheaded by the Mayor of San Marcos and his team, San Marcos is seeking to create an innovation district that will encourage collaboration and innovation that leverages its region's university, governments, and business sectors and creates sustainable jobs and local career opportunities.
San Marcos is a small but fast-growing city with strong ties to some significant assets. A revitalized downtown, a vibrant food and entertainment sector, a university that is investing in the community, a growing reputation for advanced materials and construction, and an established bioscience research park.
I was pleased to provide my thoughts on the critical role of innovation districts as regional mechanisms for community economic success and vitality. I shared my thoughts on successful innovation districts such as uCitySquare/Science Center in Philadelphia and on emerging innovation districts such as here in Austin.
I believe in the vision of a connected innovation corridor in Central Texas, where the successes of communities like Temple, Round Rock, Austin, San Marcos, and San Antonio are synergistic.
We don't want to become Silicon Valley or Research Triangle – we will have our own identity, with our values – but Central Texas should have the same household recognition as these other thriving innovation regions. And by working together, we can!
ACROSS THE DISTRICT
News from our partners in Austin's life sciences and health sector
The Texas Health Catalyst Program Continues
During June, several teams from the Texas Health Catalyst program participated in the regional NSF I-Corps program and went through a customer discovery process to validate their value propositions. This month, teams will connect to highly specialized Catalyst advisors who will help them further hone their business thesis and improve commercial viability.
Have an innovative idea that might be a good fit for the program? Though applications aren't currently open, you can still submit your idea.
Health Learning Series Live Stream & Upcoming Event
Last month the Texas Health CoLab invited Stephanie Ibbotson to speak about reimbursement with healthcare entrepreneurs. The event was live streamed to ACC's Bioscience Incubator and this coming month's topic will be streamed to both the Bioscience Incubator and the Ic² Institute. This month's topic is FDA Regulations of Digital Healthcare and will cover recent actions by the FDA and Congress.
RSVP for the event and plan to attend the full series, generally held the last Thursday of the month.
UPCOMING EVENTS
There are several upcoming events from our partners!
Christopher Laing, MRCVS, PhD Executive Director, Capital City Innovation
As Executive Director of Capital City Innovation, Chris leads an organization that is coordinating the stakeholders of the innovation district emerging around Austin's new health complex. Previously, Chris was a member of the senior management team of Philadelphia's University City Science Center, the country's oldest and largest urban innovation hub.

Follow Chris on Twitter @chrislaing